Blinds in Tulsa, OK
Since 1995, Blind Doctor has been the authority on the sale, installation and repair of custom window treatments. Our consultations are done in-house, so you get the beautiful blinds that are perfect for your home! We even offer repairs on blinds not bought from us, so your custom window treatments stay looking great for longer. Contact us today to take advantage of our craftsmanship and dedication to customer satisfaction.
Personalized Blind Services
We're capable of helping you find the right blinds for your home, installing them and even repairing your existing blinds. We can even custom-fit them to any size window!
Everything we do is done in-house, so you can see exactly how it impacts your home. We bring samples with us for all consultations, for a truly personalized touch.
Even if you don't buy blinds from us, we're able to repair the blinds you do have. This is great for custom installations that need a specialized touch.
We operate Monday through Saturday from 7am to 7pm, but are always available to talk. We also offer free estimates for your convenience.
Our business maintains a superior rating with the Better Business Bureau (BBB). Let us show you what exceptional customer service looks like.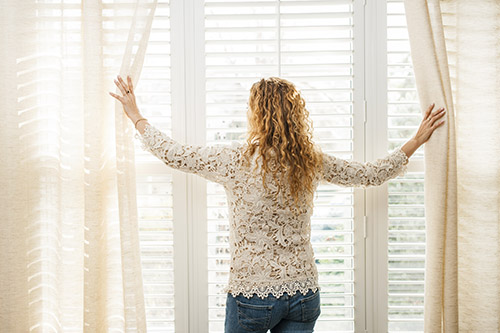 Personalized Sales, Installations and Repairs for Your Blinds
Window treatments can transform a home's interior. The right blinds in Tulsa, OK will add to your décor, give you privacy, control lighting and exposure, and set the mood of your living space. Blind Doctor is ready to make sure you're getting all of these benefits and more with a truly customized solution. We take the time to come to your home for a free consultation, bringing samples with us to show you the power of a great window treatment. We'll talk through your likes and dislikes, making recommendations about style, color and material, helping you narrow down the choices until you've chosen the best blinds for your home. Then, when it comes to installation, we'll be back to deliver the same level of personalized service with a truly custom installation.
Our focus is solely on window blinds in Tulsa, OK, which means we're second to none in delivering products and services that are knowledgeable and precise. Whether it's cutting blinds for a custom window fit or installing hardware for a seamless aesthetic, we take the time to do things right. And, most importantly, we're one of the few companies out there offering repairs for your custom blinds. Whether you bought the from us or have had them for years, we'll put in the work to repair your blinds and restore their elegance within your home! Let us show you what the power of friendly, personalized service and more than two decades of expertise in blinds can do for you and your home!
Love Your Window Treatments
Let Blind Doctor bring your window treatments to life, so you can enjoy them each and every day in your home! Contact us today to schedule a free in-home consultation or repairs.
Proudly Offering Blinds Sales, Installation, and Repairs to the following areas:
Tulsa, OK
Oakhurst, OK
Jenks, OK
Salupa, OK
Sand Springs, OK
Glenpool, OK
Kiefer, OK
Bixby, OK
Kellyville, OK
Broken Arrow, OK
Mounds, OK
Cushing, OK
Owasso, OK
Lotsee, OK
Pratville, OK
Turley, OK